Our guides ride a variety of different bikes. Each of us also has a variety of bikes for different needs like mountain biking and road riding. Our bikes also have to serve as tools for our job helping guests and keeping everything flowing and working on our tours. This is the first in a series of guide bike blog posts to give you all an idea of what we ride and how they work for us.
Today's Guide Bike Review is Bob's, that is me, new Niner Rlt 9 Steel gravel/Road bike. To start off with it is important to know that I am a pretty picky bike guy and like things a certain, not always the way intended, way. As a guide it is important to have the ability to carry a fairly good sized load while also remaining fast and able to jump between groups on our tours. Sometimes that means doing hill repeats and other times chasing down the riders way off the front. I have different bikes for the style of tours we are leading but more often than not I am on a road bike for our multi day options. I carry a variety of gear as a guide including extra water, food, clothing and first aid gear for our guests as well as myself. I also need to be able to have a few beers with me for those picturesque spots that you just have to stop and enjoy a tasty beverage with friends along the way. This means I either need to ride with a back pack or some version of pannier. I prefer to have my back free when riding so I choose the pannier or frame bag option.
With all that in mind I searched a lot for a bike than can almost do everything. Not an easy task and still be a fun bike to ride. My search took me all over and as most things do ended up here in Fort Collins, CO. Niner's office and headquarters is a few miles away from our office.
When we started beer and biking in Japan we always talked about our love for custom built steel bikes and the craftsmanship that goes into a beautiful frame, of any material. One of our running themes was that a great bike has a soul. This soul is hard to find in a mass produced bicycle. It is also often out of the price range to buy a full custom ride. I can start out by telling you this bike has a soul and it is beautiful!
Finally about the bike and how I set it up. I picked the 3-star rival build in part to save a little cost and also because it is simple and easy to maintain system. Standard cable shifting and a reliable hydro brake set up. I ride a 56 cm and when I visited the showroom the 56 on the floor fit almost perfect with no adjustments at all. Fit is the most important portion of any bike purchase.
The specs on the bike are available at the link at the beginning of this post. I set up the bike with an Axiom Streamliner DLX rack for disc brakes, I have since trimmed the upper rack attachment bits to look better than in the photos. Niner RLT's come all set to load with gear for bikepacking and light touring so it was an easy install. I swapped out the Niner saddle, which was great, for my broken in and tour tested Brooks Swift that has been on at least three of my past bikes. A simple seat bag, no idea what brand, and a top tube bag, in the photos a Apidura but now a Revelate, and a Topeak handle bar bag for quick stuff along the way. Even with all of this stuff the bike feels quick and smooth on every terrain I have ridden on. Mostly tarmac with some cobbles and dirt roads mixed in.
The fit of this bike is amazing. Often I end up tinkering with stems and seat height and position for a few rides before dialing it ini the way I like. To be honest the Niner fit well straight out of the stand with only a minor seat adjustment. After leading my first tour, about 150 miles, I do not ache or hurt anywhere related to fit, I am a bit out of shape this early in the season so the legs are sore.
The 700 x 35 tubeless tires are great and very forgiving which is nice because while guiding you sometimes are talking and do not see a hazard. They roll right through everything so far. I may for a faster pace tour opt for a narrower tire but so far I am giddy about the way the bike handles and rides.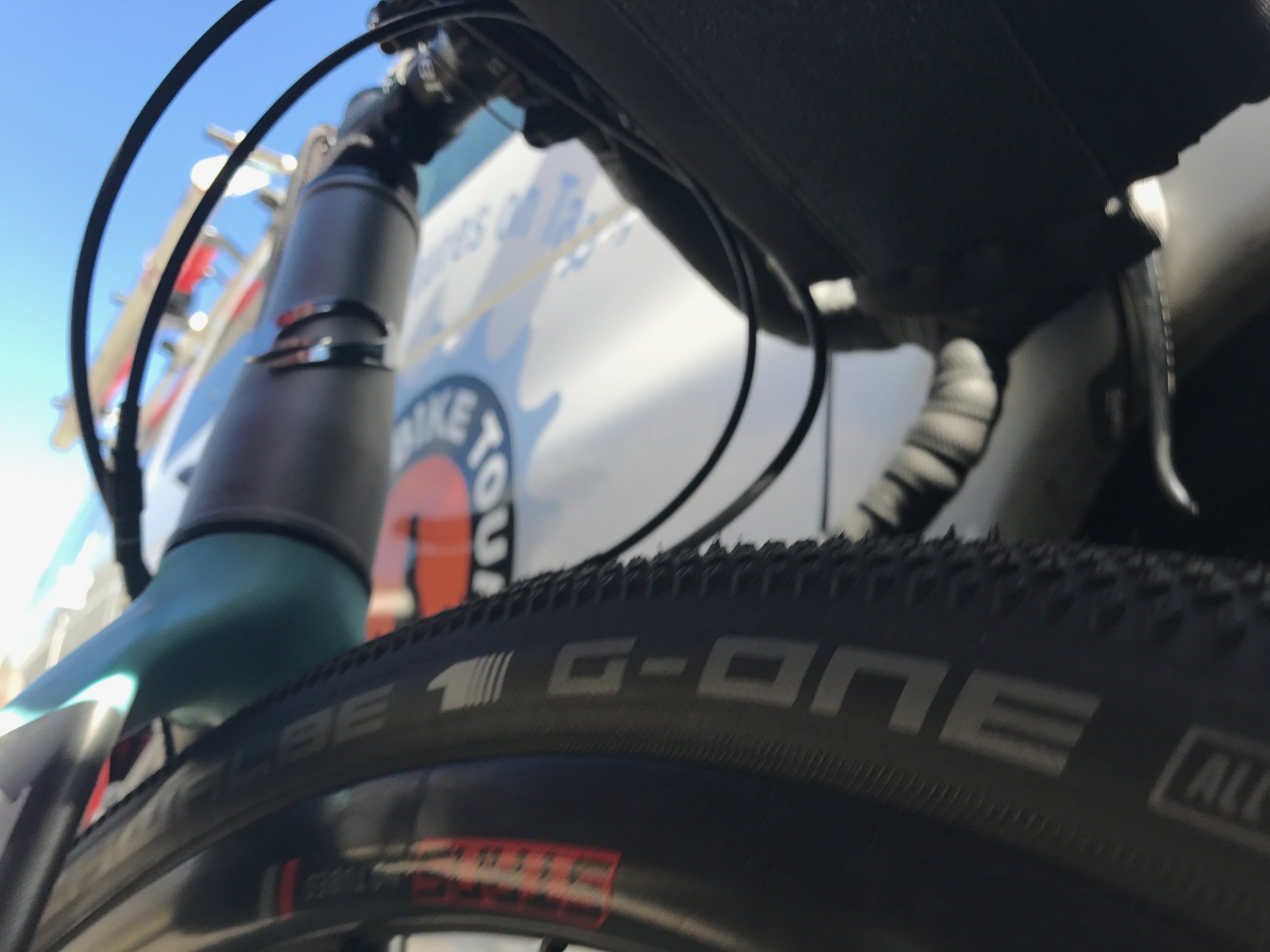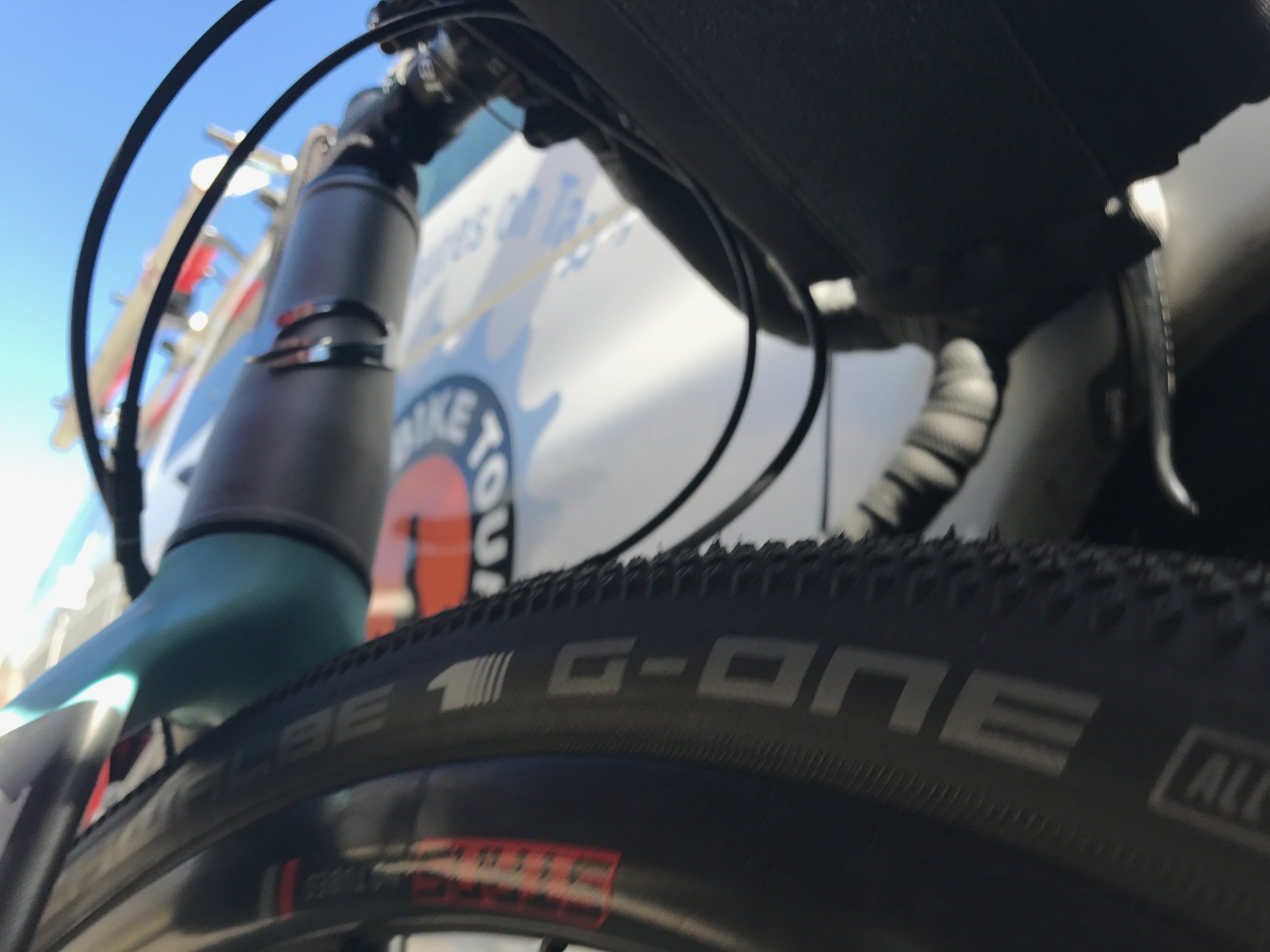 One final selling point for me was the YAWYD stem cap. A Niner top cap that allows you to pop the cap off a beer or really any bottled beverage and place it on the stem. I choose a Westmalle Dubble cap to remind me how much I love riding in Belgium. I am not sure where this bike will take me but I am confident it will handle everything I throw at it. Cheers, Bob